RAMESH ARAVIND, Brand Ambassador for Election Commission
Invokes Citizens to Vote in the 2023 Karnataka State Assembly Elections via Jio and Airtel Platforms with His Charming Voice
Renowned actor Ramesh Aravind, known for his noncontroversial and neutral image, has taken on a new role that goes beyond the silver screen. In a unique initiative aimed at urging voters to exercise their rights, Aravind's charming voice has been used as a ringtone, resonating across Jio and Airtel platforms during the highly anticipated 2023 Karnataka State Assembly Elections. The Election Commission of India, recognizing his influential persona, hopes to leverage Aravind's popularity to inspire citizens to actively participate in the democratic process.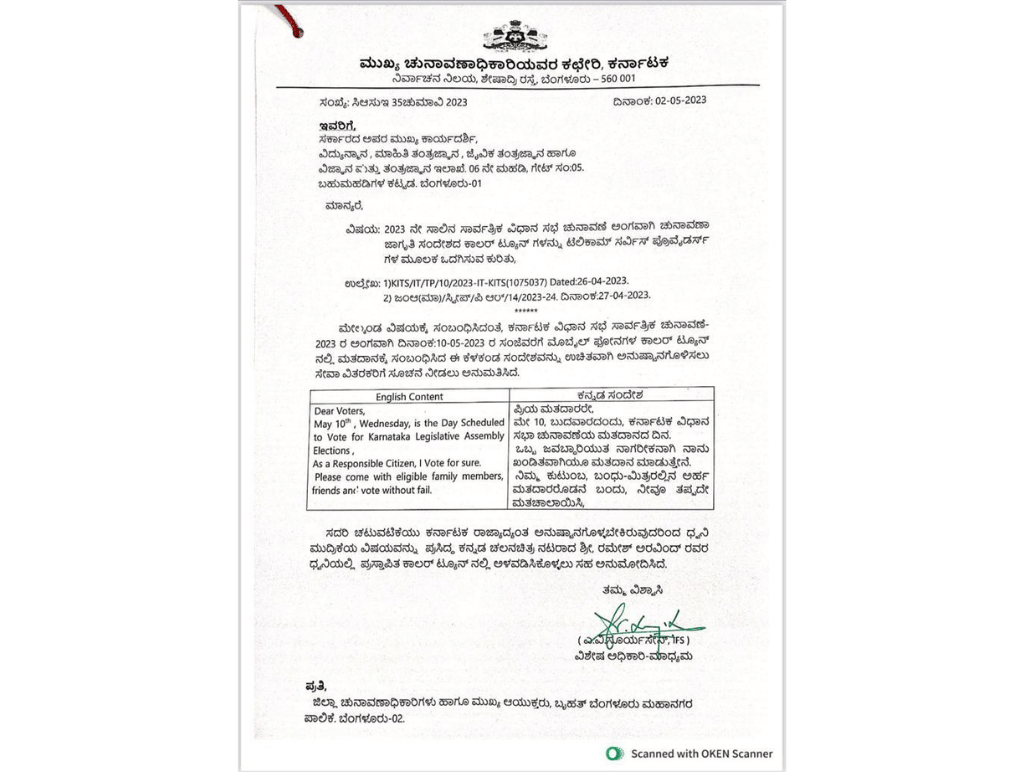 The decision to use Ramesh Aravind's voice as a ringtone during the Assembly elections is a strategic move by the Election Commission. By selecting an actor with a noncontroversial and neutral image, the commission aims to foster inclusivity and encourage citizens from all political affiliations to engage in the electoral process. Aravind's persona as an actor resonates with audiences of various backgrounds, making him an ideal choice to deliver a unified message on voting rights. The ringtone, designed to catch the attention of mobile phone users, features Aravind's voice gently urging voters to exercise their franchise. As callers receive or make calls, they are reminded of the importance of their participation in shaping the future of their constituencies. The Election Commission, in collaboration with Jio and Airtel platforms, intends to reach a wide audience and leverage the popularity of these networks to spread the message far and wide.
Ramesh Aravind, renowned for his soothing voice and ability to captivate audiences, expressed his enthusiasm for being a part of this unique initiative. He stated, "I am truly humbled to be a part of this initiative by the Election Commission. Voting is the cornerstone of our democracy, and it is our responsibility as citizens to exercise this fundamental right. By using my voice as a ringtone, we hope to create awareness and remind people of the power they hold in shaping the future of our nation." With the 2023 Assembly elections on the horizon, the Election Commission's decision to use Ramesh Aravind's voice as a ringtone underscores its commitment to promoting voter awareness and engagement. As citizens across the nation receive and make calls, they will be reminded of their responsibility to vote and contribute to the progress and development of their constituencies.
As the melodious tones of Ramesh Aravind's voice ring out across the nation, citizens are reminded of the significance of their votes in shaping the future of their communities. This collaboration between the Election Commission, and the popular actor underscores the collective effort to strengthen democratic values.